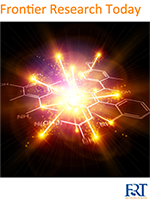 Frontier Research Today is an open access multidisciplinary journal publishing latest scientific findings and reviews.
Scope
Frontier Research Today publishes original research and reviews from natural areas of physics, chemistry, biology, medicine, materials, engineering and social sciences.
Peer Review
Each submission to Frontier Research Today passes through a quality control and peer-review evaluation process before receiving a decision. Submissions will not be seen by our Editorial Board or peer reviewers until they pass this quality control check.
Editorial Oversight
Frontier Research Today is managed by an international Editorial Board. The Editorial Board members ensure fair, and professional peer review to every submission.
Editorial Team
Editors in Chief
Prof. Dr. Yafei (Anderson) Zhang
Editor in Chief of Nano-Micro Letters (IF 7.381, ISI Web of Science JCR 2017)
Director, Thin Film and Microfabrication Technology Laboratory of Ministry of Education
School of Electronic Information and Electronic Engineering, Shanghai Jiao Tong University, Shanghai, China


Managing Editor
Zhihua Zhou ORCID 0000-0001-5014-6946
Shanghai Jiao Tong University, China


Editorial Board
Kwang-Leong Choy
Director of the UCL Centre for Materials Discovery
University College of London, London
United Kingdom
Jianmin Miao
Division of Engineering Mechanics
School of Mechanical and Aerospace Engineering
Nanyang Technological University
50 Nanyang Avenue
Singapore
Bin Yu
College of Nanoscale Science & Engineering
State University of New York
United States
Jing Guo
Department of Electrical and Computer Engineering
University of Florida
United States
Miao Chen
CSIRO Process Science and Engineering
Box 312, Clayton South, Vic 3169, Australia
Email: This email address is being protected from spambots. You need JavaScript enabled to view it.
Tel: +61 3 9545 8749
Fax: +61 3 9562 8919
Eric Siu-Wai Kong
Nanophotonics, Inc.,
United States
Lijie Li
School of Engineering
Swansea University
United Kingdom
Liyuan Han
National Institute for Materials Science
Japan
Qing Zhang
Nanyang Technological University
Singapore
Chun-Sing Lee
Department of Physics & Materials Science
City University of Hong Kong
Hong Kong
Wenjun Zhang
Department of Physics & Materials Science City University of Hong Kong
Hong Kong
Norman Zhou
Department of Mechanical Engineering
University of Waterloo
Canada
JingQuan Liu
Shanghai Jiao Tong University
China
Zhi Yang
Shanghai Jiao Tong University
China
Liangming Wei
Shanghai Jiao Tong University
China
Xinliang Feng
Max Planck Institute for Polymer Research
Ackermannweg 10 D-55128 Mainz
Germany
Shengyong Xu
Key Lab for the Physics and Chemistry of Nanodevices of MOE
Peking University, China
Chengkuo Lee
Electrical and Computer Engineering
National University of Singapore
4 Engineering Drive 3,Singapore
117583,+65 6516-5865
E-mail: This email address is being protected from spambots. You need JavaScript enabled to view it.
ANMING HU
College of engineering
Mechanical, Aerospace & Biomedical Engineering Department
865-974-5993,509 Dougherty Engineering Building
1512 Middle Drive,Knoxville, TN 37996-2210
United States


Frontier Research Today applies the Creative Commons Attribution 4.0 International license (CC BY) to works we publish. This license was developed to facilitate open access – namely, free immediate access to, and unrestricted reuse of, original works of all types. Under this license, authors agree to make articles legally available for reuse, without permission or fees, for virtually any purpose. Anyone may copy, distribute, or reuse these articles, as long as the author and original source are properly cited.